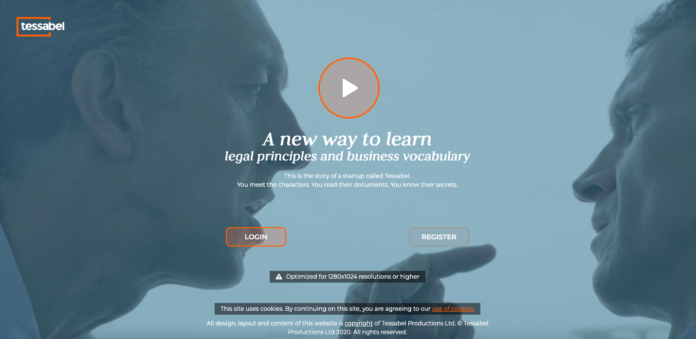 John O'Donovan was born and brought up in England, he studied classics at London University, was called to the Bar by Inner Temple in 1993, and practised from Gray's Inn in London.
He moved to Spain, and taught in the Law School at ESADE in Barcelona from 2005 to 2018.
John is founder of Tessabel, a new way to learn legal principles and business vocabulary.
Tessabel was developed with the valuable input of his students at ESADE who described their perfect way to learn technical legal English.
Since 2018, he had been working full time on Tessabel.
He now lives in Belgium.
The Technolawgist asked John about his project Tessabel.
Háblanos de tu proyecto Tessabel: una serie al más puro estilo Netflix para aprender Legal English.
Tell us about your project Tessabel: a Netflix-style series to learn Legal English.
Tessabel is an online drama to teach technical legal and business English.
It's the story of a startup which matures into a world-changing public company, and then things go wrong. A couple of people get killed, one goes to prison, and something really bad happens to two wholly innocent parties.
The story is pure Netflix, but delivered using audio-visual scenes, technical documents, letters, messages, and podcasts.
Then there's the explanation database of 1,400 technical and idiomatic terms. Every time an actor says a word I want to explain, or whenever such a word appears in a document, users can click through to the explanation.
Un proyecto innovador y disruptivo: ¿destinado a abogados o estudiantes de derecho? ¿o ambos?
An innovative and disruptive project: is it for lawyers or law students? or both?
It's specifically designed for non-native English-speaking lawyers and law students, but the content is broad enough for anyone working in financial or legal services.
I spent 8 years practising as a barrister in London, and then taught a technical English course at ESADE in Barcelona for 12 years. I was teaching mostly lawyers, but also economists and tax specialists. Tessabel is essentially a more complete version of the course I was giving there, but now with guns, fraud, money laundering and murder.
Tessabel llega en un momento en el que la innovación y el uso de tecnología ya son una realidad en el sector legal: ¿Legaltech English?
Tessabel comes at a time when innovation and the use of technology is already a reality in the legal sector: Legaltech English?
The way of delivering the content is innovative. Everyone likes a good drama, so I use the exciting story as a vehicle for the educational side.
And the website is very cool. It remembers what you've done, what you've got right and wrong, and is super easy to use. I tagged the 1,400 explanations into 80 different categories (e.g. IP, international taxation, dispute resolution) so you can save them, makes notes, and test yourself on individual tags.
Se podría decir que eres un abogado innovador y emprendedor visionario: ¿Por qué crees que tu proyecto es único?
You are a visionary entrepreneurial and innovative lawyer: why do you think your project is unique?
A lawyer from Barcelona or Bogotá has to speak English well to work internationally. Learning general English is pretty straightforward, but it's hard to make the jump to technical legal and business English. There isn't much out there to help someone in this position.
So Tessabel is different firstly because the content is technical and very complete. I teach things like 'wildcat strike', 'rescission', or the difference between 'bond prices' and 'bond yields'. Every word or phrase is used correctly, so if a user is revising 'bond yields' in the library, they can click a button to see the phrase used in the context of the story.
Secondly and most obviously, Tessabel is unique because it's a really great story. Users want to know what happens to the characters. It's light-years from a typical online course.
¿Dónde tenemos que acudir para empezar a disfrutar con la serie Tessabel y aprender o mejorar Legal English?
Where do we have to go to start enjoying the Tessabel series and learn or improve our Legal English?
There's a trailer for Tessabel here.
You can watch the first chapter ('Entrepreneurship') for free at tessabel.com. Press 'play'.
To watch the remaining eight chapters, and also use the full testing and library functionality, contact me at john@tessabel.com.
---
Suscríbete a nuestro newsletter aquí.